Overview
The GM Tire Protection Plan is the only tire protection backed by General Motors. This great product protects you against costly repairs or even replacements of your tires due to unforeseen road hazard damages.
Because Tire road hazard failures are costly and inconvenient, GMTPP ensures both are minimal.
Protection Plan Coverage
GMTPP will cover the damages to your tires due to road hazard conditions (nails, pot holes, etc.) that result in the tire no longer being able to hold air or be safely operated.
Coverage up to $40 for each tire repair*
Coverage up to $399 for each tire replacement*
GMTPP will cover all eligible tires on your vehicle throughout the term provided.
GMTPP will also provide up to $75 reimbursement for road side service and towing.*
There is a liability limit of $2,000 per term*
*Inclusive of all applicable taxes
Plans Available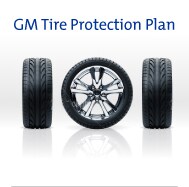 GMTPP offers three different terms to match your driving habits
3 Year Term
4 Year Term
5 Year Term
All with UNLIMITED Kilometres!
Eligibility
All New and Used vehicle customers are eligible to purchase GMTPP.
Excluding those in B.C. all customers are eligible to buy GMTPP from the nearest GM Dealer or Saturn Retailer provided the tires on the vehicle at time of purchase are have a minimum of 4/32" of tread remaining and are recommended by the manufacturer.
For customers residing in B.C the purchase of GMTPP without the purchase of a New or Used vehicle must be done in conjunction with the sale of at least one new tire.