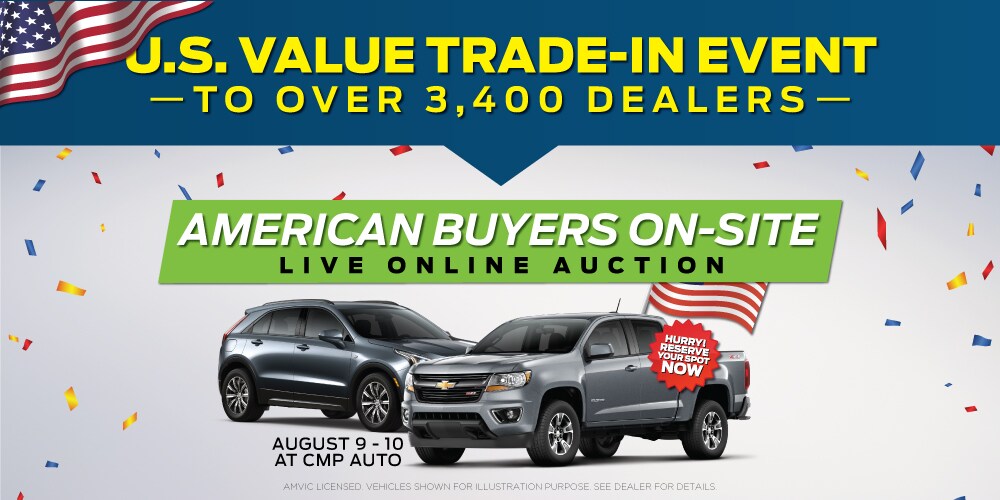 Got a Trade-In? 
Be confident you will receive the best value for your trade-in vehicle at CMP Auto Chevrolet Cadillac Buick GMC's US Value Trade-In Event from August 9 to 10.
How do you benefit?
• American buyers on-site all three days paying top value for your vehicle
• Online real-time bidding with TradeRev for your vehicle by over 3,400 dealers to get you the best trade-in price
• Ability to accept a bid or cancel the auction if you do not choose to proceed.
TradeRev is an online marketplace that allows us to quickly place your trade-in vehicle online for immediate live auction to over 3,400 Canadian and American Dealers.
From August 9th to 10th, bring your trade-in vehicle in and our team will submit it to the online TradeRev marketplace for live bidding!
We'll review the highest bids from dealers across North America so you can feel confident that you're receiving the best possible value for your trade.
Browse from over 2,000 new and used vehicles in CMP Auto Chevrolet Cadillac Buick GMC's inventory to find your new ride.
What are you waiting for?
Spots are filling up fast, so fill the contact form below or give us a call at 403-207-1000 and book your appointment now.