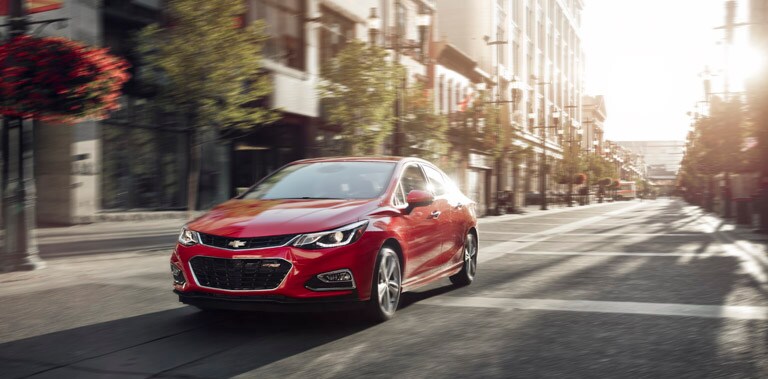 The latest iteration of the Chevrolet Cruze comes with a fresh new design, more tech features, better handling and improved infotainment. Let's see how much better these improvements make the vehicle.
The Cruze is a compact family car and this is a very tough segment to compete in. Cars in this class need to be relatively affordable, but also offer the design, tech, safety and space that a young family needs. That is a tough challenge, but Chevrolet seems to have done it with the latest Cruze.
Exterior Furnishings of the Chevrolet Cruze 
The front of the new Cruze is noticeably different from past models, with a more modern front fascia, sharper grille hugged by elongated lights, and a more massive lower section. The rear and sides of the vehicle also get new features, the most notable changes being a new taillight design and completely new wheel options. The cars body comes in the form of either a roomy sedan or sleek hatchback version.
Interior Comfort of the Chevrolet Cruze 
Getting in the Cruze is very easy. All doors open wide and the roof is high up to accommodate taller people.
The inside features an all-new 7" touchscreen that includes Apple CarPlay and Android Auto as standard. Faux leather is an option and this is also a change when compared to the previous model - which featured real leather.
There is plenty of room for four adults in the spacious cabin. You'll be impress at how easily you'll find a good driving position, regardless of your respective height. Of course, front passengers will have more leg room than people in the back, but the vehicle is roomy throughout.
Moreover, ergonomics in the vehicle are really good. Everything is at hand and easy to use. 643 l of space in the trunk of the larger hatchback is really impressive, while folding the rear bench seat gives a massive 1336 l of cargo space.
Depending on the trim level you choose, you get up to 4 cup holders, 4 bottle holders, wireless charging slot and several spaces for smaller items.
Engines and Drive of the Chevrolet Cruze 
There are two engines available for the new Chevrolet Cruze. The most common one is a 1.4 l turbo gasoline with 153 hp and 177 lb-ft of torque. It is paired with a 6-speed automatic transmission which transfers the power to the front wheels. This option feels more welcome on the open roads where its torque is of more use.
The second option is a 1.6 l diesel unit with 137 hp and 240 lb-ft of torque. Even though it has less power, the increased torque in this model, and its low revs availability greatly improve the feel behind the wheel. Moreover, it has a nine-speed gearbox, so finding the perfect revs is a lot easier. This improves noise reduction, fuel efficiency, and creates a feeling of effortless acceleration.
Even though the Chevrolet Cruze is not made to carve corners on twisty roads, its handling could surprise you. It is very enjoyable, responsive and gives great feedback for a small car. When in low speed conditions such as parking, the steering lightens to increase comfort, however, as you speed up it becomes heavier to give you more control and precision.
Trim Levels in the New Chevrolet Cruze 
There are four trim levels named the L, LS, LT, Diesel and Premier. Of course, along with these trim levels, you can choose a number of option packs.
The L is available only in the sedan form and it comes with 15" steel wheels, remote locking, auto headlights, Bluetooth, air conditioning, USB ports, OnStar with Wi-Fi hotspot, rear view camera, 60/40 folding rear seats and Apple CarPlay and Android Auto.
The LS has all of the features that the L has, but adds armrests and carpet floor mats. This trim level also has a dedicated Convenience pack that increases the wheel diameter by an inch and adds a multi-function steering wheel and cruise control.
The LT has all of the previously mentioned goodies and adds an armrest with cup holders and a USB port for the rear passengers, LED daytime running lights, satellite radio, an improved sound system and more. The LT is accompanied by more optional equipment packs. The first one is called Driver Confidence pack and it introduces advanced safety features such as rear cross traffic alert and blind spot monitoring, as well as parking sensors for the rear. The second equipment pack is called Convenience and it goes a step further with features like a power-adjustable seat for the driver, heated front seats and mirrors and keyless start and entry. More optional packs are RS Appearance which adds fog lights, a rear spoiler, and Sun and Sound pack with a sunroof and Bose audio system.
The Diesel trim's most notable feature is, of course, its diesel engine. Moreover, this engine is paired with a 9-speed automatic, providing a reassuring ride often held in the most comfortable revs. In terms of equipment, it packs everything that the previously described trim levels offer and adds a Preferred pack which comes with faux leather upholstery and a heated steering wheel.
At the very top of the lineup you will find the Premier trim level. Aside from all the previously mentioned features, the Premier adds 17" wheels, chrome details on the outside, better suspension system at the back, beautiful ambient interior lighting and vanity mirrors with illumination. This trim level also gets several optional packs, including the RS Appearance which adds 18" wheels and a more aggressive body kit to the fog lights and spoiler from the same pack for the LT trim. Another optional pack for the Premier is the Driver Confidence 2 pack. It comes with Auto Emergency Braking (AEB), lane keep assist, forward collision warning and automatic high beams.
Want to learn more about the new ChevroletCruze? Of course you do! Come on down to our Calgary car dealership at 1313 36Street NE, give us a call and ask a few questions at (403) 207-1000, or book atest drive online now.